SUNDAY:
APRIL 30, 2023:
GOOD MORNING:
WELCOME:
LADIES AND GENTLEMEN:
OUR DAILY MEDITATION SCRIPTURES:
REVELATION 19:1 – AND AFTER THESE THINGS I HEARD A GREAT VOICE OF MUCH PEOPLE IN HEAVEN, SAYING, ALLELUIA; SALVATION, AND GLORY, AND HONOUR, AND POWER, UNTO THE LORD OUR GOD: REFERENCES: REVELATION 11:15; REVELATION 11:15; REVELATION 7:10 – 12; MATTHEW 6:13; 1 CHRONICLES 29:11; REVELATION 19:3 – 4; REVELATION 5:9 – 13.
REVELATION 19:3 – AND AGAIN THEY SAID, ALLELUIA. AND HER SMOKE ROSE UP FOR EVER AND EVER. REFERENCE: ISAIAH 34:10.
REVELATION 19:4 – AND THE FOUR AND TWENTY ELDERS AND THE FOUR BEASTS FELL DOWN AND WORSHIPPED GOD THAT SAT ON THE THRONE, SAYING, AMEN; ALLELUIA.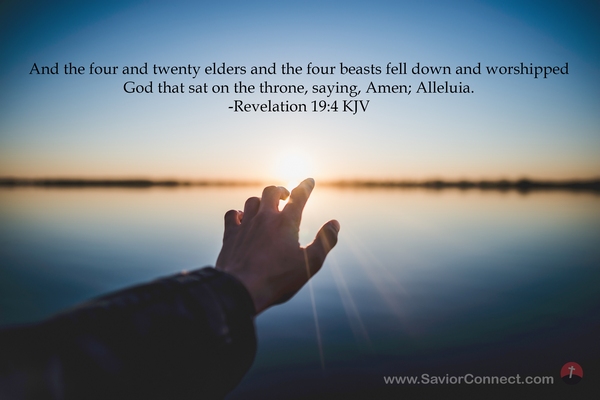 "GLORY HALLELUJAH, THANK YOU JESUS, PRAISE GOD"
"I WORSHIP AND PRAISE EL SHADDAI MY ALMIGHTY GOD FOR HIS GLORIOUS WORD IN JESUS NAME!"
"SOME PEOPLE DON'T LIKE TO BOW DOWN, WORSHIP AND PRAISE GOD BUT YOU KNOW WE CAN'T LET THAT STOP US AS TRUE BELIEVERS WE MUST CONTINUE TO GET ON OUR KNEES, BOW DOWN WORSHIP, THANK, PRAISE AND MAGNIFY GOD NOT JUST FOR WHAT HE DO FOR US BUT, BECAUSE HE GAVE HIS PRECIOUS ONLY BEGOTTEN SON CHRIST JESUS TO DIE FOR ALL OF US. LET ME TELL YOU ALL SOMETHING IT'S BEEN OVER 8 YEARS NOW THAT I HAD AN HORRIBLE CAR WRECK BECAUSE A MAN RAN THE RED LIGHT, NEVERTHELESS, GOD BLESSED ME TO LIVE AND I'M STILL HERE I SAID ALL THAT TO SAY THIS BEFORE MY CAR WRECK MY THIRD BEDROOM IN MY HOUSE USED TO BE MY PRAYER ROOM AS A MINISTER OF THE GOSPEL I MADE ME A BRICK ALTAR UNTO GOD IN THAT ROOM AND SOMETIMES I WOULD JUST GO IN THERE AND SPEND TIME WITH THE LORD WHETHER BOWED DOWN ON MY KNEES OR I WOULD JUST LAY ON THE FLOOR AND JUST TALK TO GOD. LET ME TELL YOU ALL: JUST TRY IT BECAUSE IT WORKS FOR ME AND I THANK GOD FOR IT BECAUSE I HAVE NO COMPLAINTS. I SERVE AN MIGHTY AWESOME GOD AND I LOVE HIM SO VERY VERY MUCH IN JESUS NAME!"
I WANT YOU ALL TO KEEP A POSITIVE ATTITUDE. THINK ON GOOD THINGS IN JESUS NAME. I KNOW SOMETIMES IT IS HARD BUT, THAT IS THE TIME WHEN YOU NEED TO JUST THINK ABOUT GODS GOODNESS! AMEN.
I PRAY THAT I HAVE SAID SOMETHING TO UPLIFT AND ENCOURAGE SOMEONE THIS MORNING IN JESUS NAME! AMEN.
ALWAYS REMEMBER: GOD LOVES YOU AND SO DO I!
HAVE A BLESSED SUNDAY IN JESUS NAME!
MISSIONARY CYNTHIA BENNETT