FRIDAY:
DECEMBER 31, 2021:
GOOD MORNING:
WELCOME:
LADIES AND GENTLEMEN:
OUR DAILY MEDITATION SCRIPTURES:
1 JOHN 1:14 – AND THE WORD WAS MADE FLESH, AND DWELT AMONG US, (AND WE BEHELD HIS GLORY, THE GLORY AS OF THE ONLY BEGOTTEN OF THE FATHER,) FULL OF GRACE AND TRUTH.
PSALM 2:7 – I WILL DECLARE THE DECREE: THE LORD HATH SAID UNTO ME, THOU ART MY SON; THIS DAY HAVE I BEGOTTEN THEE.
1 TIMOTHY 3:16 – AND WITHOUT CONTROVERSY GREAT IS THE MYSTERY OF GODLINESS: GOD MANIFESTED IN THE FLESH, JUSTIFIED IN THE SPIRIT, SEEN OF ANGELS, PREACHED UNTO THE GENTILES, BELIEVED ON IN THE WORLD, RECEIVED UP INTO GLORY.
JOHN 1:1 – IN THE BEGINNING WAS THE WORD, AND WORD WAS WITH GOD, THE WORD WAS GOD.
HEBREWS 1:3 – WHO BEING THE BRIGHTNESS OF HIS GLORY, AND THE EXPRESS IMAGE OF HIS PERSON, AND UPHOLDING ALL THINGS BY THE WORD OF HIS POWER, WHEN HE HAD BY HIMSELF PURGED OUR SINS, SAT DOWN AT THE RIGHT HAND OF THE MAJESTY ON HIGH;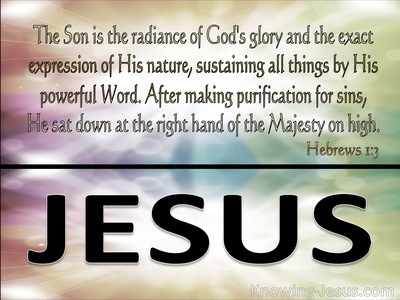 "GLORY HALLELUJAH, THANK YOU JESUS"
"I EXALT AND WORSHIP EL SHADDAI MY ALMIGHTY GOD FOR HIS GLORIOUS WORD IN JESUS NAME!"
I PRAY THAT I HAVE SAID SOMETHING TO UPLIFT AND ENCOURAGE SOMEONE THIS MORNING IN JESUS NAME! AMEN.
ALWAYS REMEMBER: GOD LOVES YOU AND SO DO I!
HAVE A BLESSED FRIDAY!
MISSIONARY CYNTHIA BENNETT