TUESDAY:
NOVEMBER 16, 2021:
GOOD MORNING:
WELCOME:
LADIES AND GENTLEMEN:
OUR DAILY MEDITATION SCRIPTURES: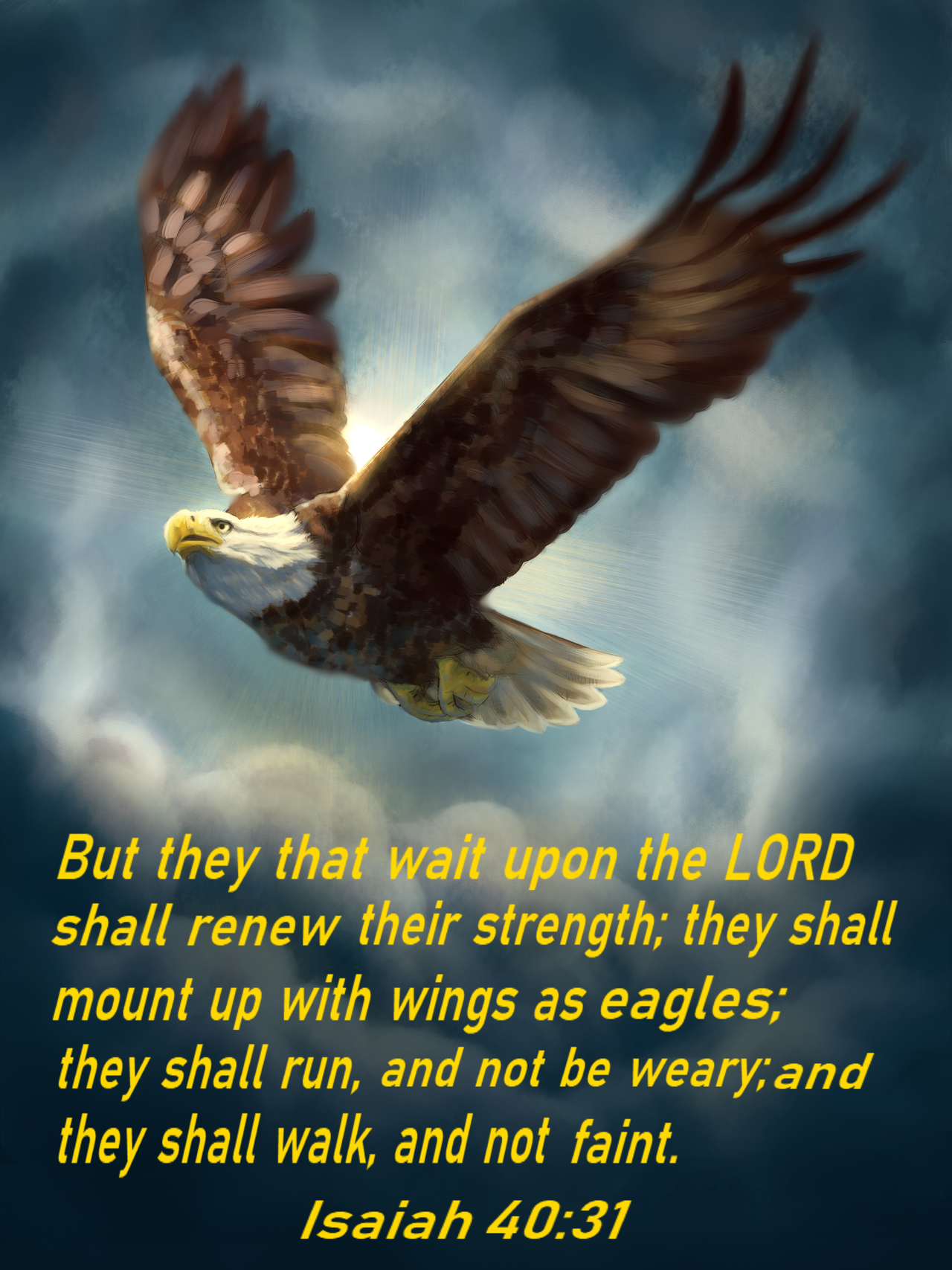 ISAIAH 40:31 – BUT THEY THAT WAIT UPON THE LORD SHALL RENEW THEIR STRENGTH; THEY SHALL MOUNT UP WITH WINGS AS EAGLES; THEY SHALL RUN, AND NOT BE WEARY; AND THEY SHALL WALK, AND NOT FAINT.
2 CORINTHIANS 4:16 – FOR WHICH CAUSE WE FAINT NOT; BUT THOUGH OUR OUTWARD MAN PERISH, YET THE INWARD MAN IS RENEWED DAY BY DAY.
PSALM 103:5 – WHO SATISFIETH THY MOUTH WITH GOOD THINGS; SO THAT THY YOUTH IS RENEWED LIKE EAGLE'S.
PSALM 84:7 – THEY GO FROM STRENGTH TO STRENGTH, EVERY ONE OF THEM IN ZION APPEARED BEFORE GOD.
EXODUS 19:14 – YE HAVE SEEN WHAT I DID UNTO THE EGYPTIANS, AND HOW I BARE YOU ON EAGLES'S WINGS, AND BROUGHT YOU UNTO MYSELF.
"GLORY HALLELUJAH, THANK YOU J ESUS"
"I WORSHIP AND PRAISE EL SHADDAI MY ALMIGHTY GOD FOR HIS AWESOME WORD IN JESUS NAME!"
"NO MATTER WHAT WE GO THROUGH IN THIS LIFE WE MUST STAY FOCUSED ON THE WORD OF GOD WALKING BY FAITH, STANDING ON THE WORD OF GOD BECAUSE THAT IS WHERE WE GET OUR STRENGTH WELL I CAN ONLY SPEAK FOR MYSELF THE WORD OF GOD IS WHERE I GET MY STRENGTH YOU SEE I TOTALLLY DEPEND ON GOD GOD FOR EVERYTHING IN JESUS NAME!"
I PRAY THAT I HAVE SAID SOMETHING TO UPLIFT AND ENCOURAGE SOMEONE THIS MORNING IN JESUS NAME! AMEN.
ALWAYS REMEMBER: GOD LOVES YOU AND SO DO I!
HAVE A BLESSED TUESDAY!
MISSIONARY CYNTHIA BENNETT