WEDNESDAY:
NOVEMBER 10, 2021:
GOOD MORNING:
WELCOME:
LADIES AND GENTLEMEN:
OUR DAILY MEDITATION SCRIPTURES: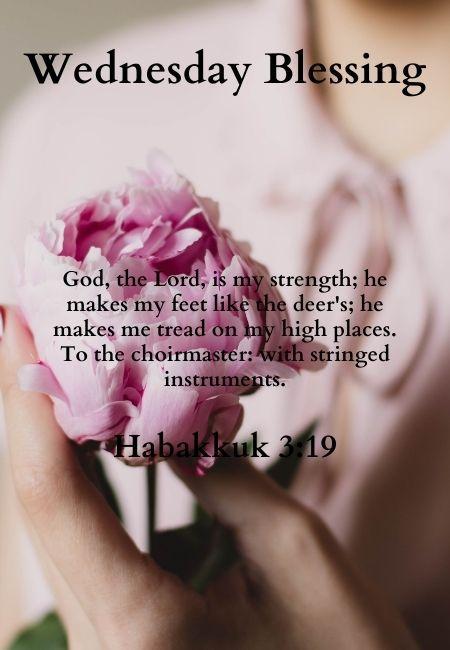 HABAKKUK 3:19 – THE LORD GOD IS MY STRENGTH, AND HE WILL MAKE MY FEET LIKE HINDS' FEET, AND HE WILL MAKE ME TO WALK UPON MINE HIGH PLACES. TO THE CHIEF SINGER ON MY STRINGED INSTRUMENTS.
PSALM 18:1 – I WILL LOVE THEE, O LORD, MY STRENGTH.
PSALM 27:1 – THE LORD IS MY LIGHT AND MY SALVETION; WHOM SHALL I FEAR? THE LORD IS THE STRENGTH OF MY LIFE; OF WHOM SHALL I BE AFRAID?
PSALM 46:1 – GOD IS OUR REFUGE AND STRENGTH, A VERY PRESENT HELP IN TROUBLE.
ISAIAH 58:14 – THEN SHALT THOU DELIGHT THYSELF IN THE LORD; AND I WILL CAUSE THEE TO RIDE UPON THE HIGH PLACES OF THE EARTH, AND FEED THEE WITH THE HERITAGE OF JACOB THY FATHER: FOR THE MOUTH OF THE LORD HATH SPOKEN IT.
ZECHARIAH 10:12 – AND I WILL STRENGTHEN THEM IN THE LORD; AND THEY SHALL WALK UP AND DOWN IN HIS NAME, SAITH THE LORD.
2 CORINTHIANS 12:9 – AND HE SAID UNTO ME, MY GRACE IS SUFFICIENT FOR THEE: FOR MY STRENGTH IS MADE PERFECT IN WEAKNESS. MOST GLADLY THEREFORE WILL I RATHER GLORY IN MY INFIRMITIES, THAT THE POWER OF CHRIST MAY REST UPON ME.
2 CORINTHIANS 12:10 – THEREFORE I TAKE PLEASURE IN INFIRMITIES, IN REPROACHES, IN NECESSITIES, IN PERSECUTIONS, IN DISTRESSES FOR CHRIST'S SAKE FOR WHEN I AM WEAK, THEN AM I STRONG.
EP;HESIANS 3:16 – THAT HE WOULD GRANT YOU, ACCORDING TO THE RICHES OF HIS GLORY, TO BE STRENGTHENED WITH MIGHT BY HIS SPIRIT IN THE INNER MAN;
COLOSSIANS 1:11 – STRENGTHENED WITH ALL MIGHT, ACCORDING TO HIS GLORIOUS POWER, UNTO ALL PATIENCE AND LONGSUFFERING WITH JOYFULNESS;
PHILIPPIANS 4:13 – I CAN DO ALL THINGS THROUGH CHRIST WHICH STRENGTHENETH ME.
ISAIAH 12:2 – BEHOLD, GOD IS MY SALVATION; I WILL TRUST, AND NOT BE AFRAID: FOR THE LORD JEHOVAH IS MY STRENGTH AND MY SONG; HE ALSO IS BECOME MY SALVATION.
"GLORY HALLELUJAH, THANK YOU JESUS"
"I EXALT AND WORSHIP EL SHADDAI MY ALMIGHTY GOD FOR HIS GLORIOUS WORD IN JESUS NAME!"
"I LOVE EL SHADDAI MY ALMIGHTY GOD WITH ALL MY HEART AND I COUNT IT AN HONOR AND BLESSING THAT HE CHOSE ME. YOU KNOW IN THE BEGINNING I NEVER WANTED TO BE A MINISTER AND I DIDN'T WANT TO PREACH BECAUSE I JUST LOVED TELLING PEOPLE ABOUT JESUS AND HIS GOODNESS NEVERTHELESS, DIFFERENT MEN AND WOMEN OF GOD WOULD CALL ME OUT AND SAY DIFFERENT THINGS BUT, I STILL RAN LIKE JONAH BECAUSE I DIDN'T WANT TO DO IT. UNTIL ONE DAY LONG TIME AGO WHEN I ALMOST DIED MY MOM REST HER SOUL CAME TO THE HOSPITAL AND SAID BABY GIRL I HAVE SEEN PEOPLE DIE FROM WHAT YOU ARE GOING THROUGH THERES SOMETHING GOD HAVE TOLD YOU TO DO AND YOU ARE NOT DOING SO I TOLD HER: MOM GOD WANTS ME TO GO ALL OVER THE WORLD PREACHING AND MINIISTERING HIS WORD AND I SAID NO I CAN'T DO IT I AM NOT A PREACHER THERFORE MOM SAID, YOU FOOL YOU CAN'T FIGHT GOD AND WIN BECAUSE HE IS OUR CREATOR AND THAT SHE WANTED ME TO REPENT AND SAY YES TO GOD AND YES TO HIS WILL AND I TELL YOU ALL BY THE GRACE OF GOD I REPENTED AND SAID YES TO GOD AND YES TO HIS WILL FOR MY LIFE AND THINGS CHANGED OVER NIGHT IT WAS AWESOME AND GOD GAVE ME A NEW BEGINNING. THERES SO MUCH TO TELL YOU ALL BUT, I WILL SAY THIS WHEN GOD TELL YOU TO DO SOMETHING DO IT BECAUSE YOU DON'T WANT TO GO THROUGH WHAT I WENT THROUGH BECAUSE IT WAS NOT PRETTY THATS WHY I CAN SAY OBEDIENCE IS BETTER THAN SACRIFICE IN JESUS NAME! AMEN."
"OBEY GOD ABOVE ALL ELSE IN JESUS NAME!"
I PRAY THAT I HAVE SAID SOMETHING TO UPLIFT AND ENCOURAGE SOMEONE THIS MORNING IN JESUS NAME! AMEN.
ALWAYS REMEMBER: GOD LOVES YOU AND SO DO I!
HAVE A BLESSED WEDNESDAY!
MISSIONARY CYNTHIA BENNETT