FRIDAY:
OCTOBER 22, 2021:
GOOD MORNING:
WELCOME:
LADIES AND GENTLEMEN:
OUR DAILY MEDITATION SCRIPTURES:
JOHN 8:36 – IF THE SON THEREFORE SHALL MAKE YOU FREE, YE SHALL BE FREE INDEED. REFERENCES: PSALM 119:32; PSALM 119:127; ISAIAH 49:24 – 25; ZECHARIAH 9:11 – 12; JOHN 8:31 – 32.
ROMANS 8:2 – FOR THE LAW OF THE SPIRIT OF LIFE IN CHRIST JESUS HATH MADE ME FREE FROM THE LAW OF SIN AND DEATH. REFERENCES: 1 CORINTHIANS 15:45; ROMANS 6:18; ROMANS 7:4.
PSALM 19:13 – KEEP BACK THY SERVANT ALSO FROM PRESUMPTUOUS SINS; LET THEM NOT HAVE DOMINION OVER ME: THEN SHALL I BE UPRIGHT, AND I SHALL BE INNOCENT FROM THE GREAT TRANSGRESSION. REFERENCES: PSALM 119:133; 1 SAMUEL 25:39; ACTS 24:16; PSALM 18:23.
ISAIAH 61:1 – THE SPIRIT OF THE LORD GOD IS UPON ME; BECAUSE THE LORD HATH ANOINTED ME TO PREACH GOOD TIDINGS UNTO THE MEEK; HE HATH SENT ME TO BIND UP THE BROKENHEARTED, TO PROCLAIM LIBERTY TO THE CAPTIVES, AND THE OPENING OF THE PRISON TO THEM THAT ARE BOUND. REFERENCES: LUKE 7:22; ISAIAH 42:1; PSALM 51:17.
2 CORINTHIANS 3:17 -NOW THE LORD IS THAT SPIRIT: AND WHERE THE SPIRIT OF THE LORD IS, THERE IS LIBERTY. REFERENCES: PSALM 51:12; JOHN 6:63; 2 CORINTHIANS 3:6; 2 TIMOTHY 1:7.
LUKE 4:18 – THE SPIRIT OF THE LORD IS UPON ME, BECAUSE HE HATH ANOINTED ME TO PREACH THE GOSPEL TO THE POOR; HE HATH SENT ME TO HEAL THE BROKENHEARTED, TO PREACH DELIVERANCE TO THE CAPTIVES, AND RECOVERING OF SIGHT TO THE BLIND, TO SET AT LIBERTY THEM THAT ARE BRUISED, REFERENCES: MATTHEW 11:5; ACTS 10:38; ISAIAH 42:7; LUKE 6:20; LUKE 7:22; JOHN 3:34; ACTS 26:18; 1 PETER 2:9; GENESIS 3:15; JAMES 2:5; EPHESIANS 5:8 – 14.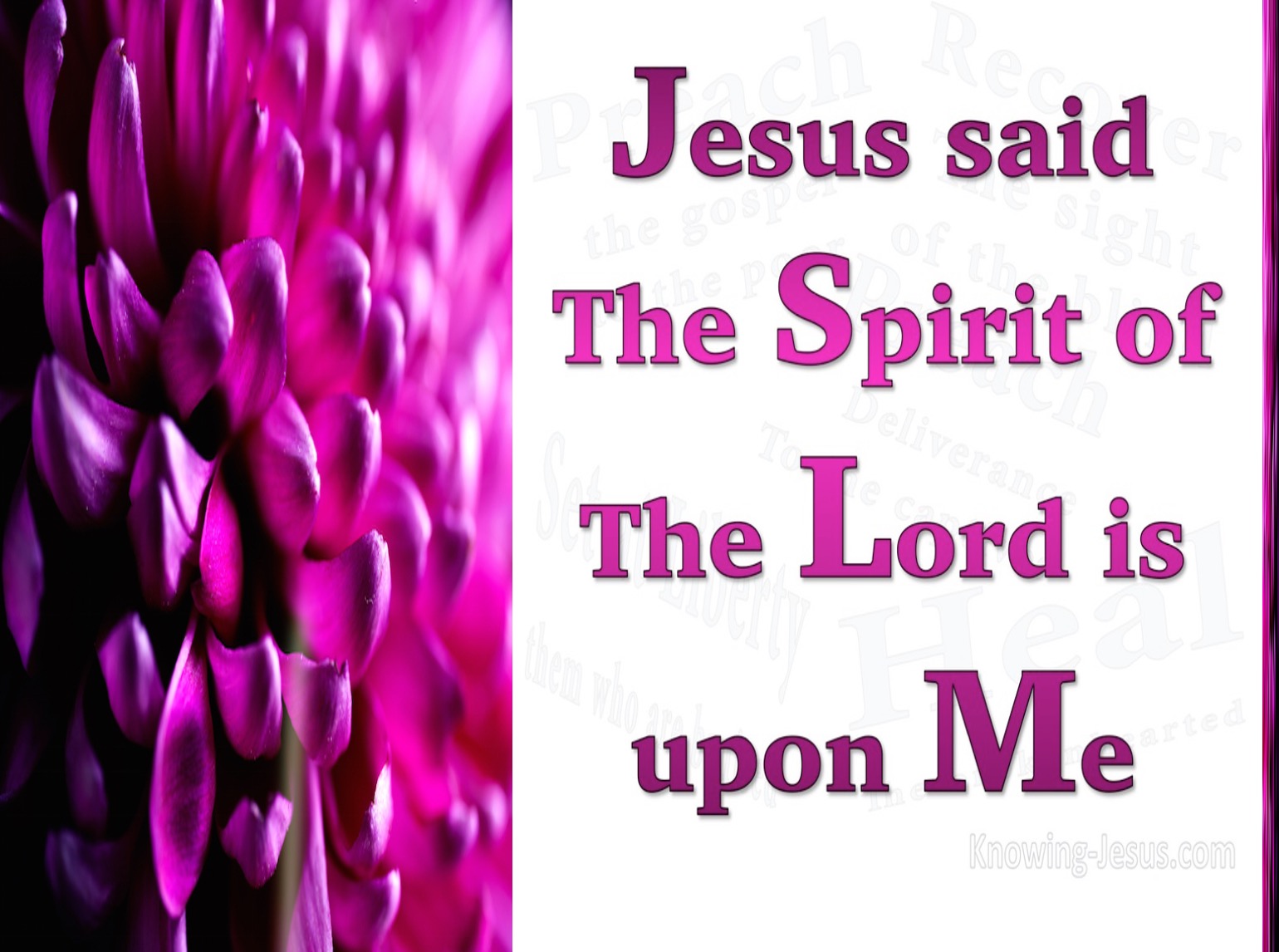 "GLORY HALLELJUAH, THANK YOU JESUS"
"I WORSHIP AND PRAISE EL SHADDAI FOR HIS AWESOME WORD IN JESU NAME!"
"WE MUST CONTINUE TO STAY FOCUSED ON THE WORD OF GOD, FAST AND PRAY NOT ONLY FOR OUR FAMILIES BUT, FOR OTHER FAMILIES, NATIONS ALL OVER THE WORLD THAT ELOHIM OUR ALL POWERFUL GOD WILL RELEASE THOSE PEOPLE WHO HAVE BEEN CAPTURED IN JESUS NAME AND HELP ME PLEAD THE BLOOD OF JESUS OVER EVERY ONE OF THEM IN JESUS NAME!"
I PRAY THAT I HAVE SAID SOMETHING TO UPLIFT AND ENCOURAGE SOMEONE THIS MOORNING IN JESUS NAME! AMEN.
ALWAYS REMEMBER: GOD LOVES YOU AND SO DO I!
HAVE A BLESSED FRIDAY!
MISSIONARY CYNTHIA BENNETT