FRIDAY:
OCTOBER 21, 2021:
GOOD MORNING:
WELCOME:
LADIES AND GENTLEMEN:
OUR DAILY MEDITATION SCRIPTURES:
JEREMIAH 33:3 – CALL UNTO ME, AND I WILL ANSWER THEE, AND SHOW THEE GREAT AND MIGHTY THINGS, WHICH THOU KNOWEST NOT. REFERENCES: MICAH 7:15; PSALM 25:14; 1 KINGS 8:47 – 50.
ISAIAH 48:6 – THOU HAST HEARD, SEE ALL THIS; AND WILL NOT YE DECLARE IT? I HAVE SHEWED THEE NEW THINGS FROM THIS TIME, EVEN HIDDEN THINGS, AND THOU DIDST NOT KNOW THEM.
ISAIAH 55:6 – SEEK YE THE LORD WHILE HE MAY BE FOUND, CALL YE UPON HIM WHILE HE IS NEAR:
DEUTERONOMY 4:49 – BUT IF FROM THENCE THOU SHALT SEEK THE LORD THY GOD, THOU SHALT FIND HIM, IF THOU SEEK HIM WITH ALL THY HEART AND WITH ALL THY SOUL.
PSALM 50:15 – AND CALL UPON ME IN THE DAY OF TROUBLE: I WILL DELIVER THEE, AND THOU SHALT GLORIFY ME.
JEREMIAH 29:12 – THEN SHALL YE CALL UPON ME, AND YE SHALL GO AND PRAY UNTO ME, AND I WILL HEARKEN UNTO YOU.
PSALM 91:15 – HE SHALL CALL UPON ME, AND I WILL ANSWER HIM: I WILL BE WITH HIM IN TROUBLE; I WILL DELIVER HIM, AND HONOUR HIM.
MATTHEW 13:35 – THAT IT MIGHT BE FULFILLED WHICH WAS SPOKEN BY THE PROPHET, SAYING, I WILL OPEN MY MOUTH IN PARABLES; I WILL UTTER THINGS WHICH HAVE BEEN KEPT SECRET FROM THE FOUNDATION OF THE WORLD.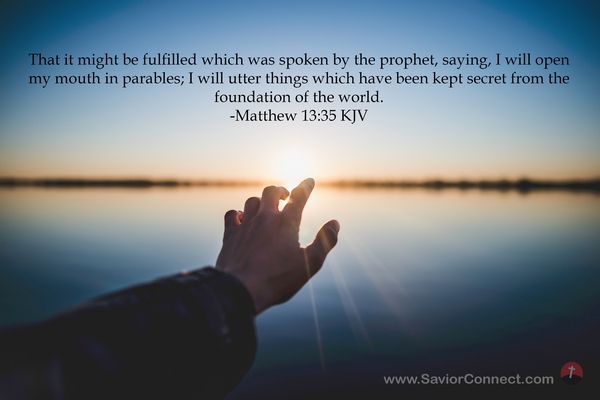 "GLORY HALLELUJAH, THANK YOU JESUS"
"I WORSHIP AND PRAISE EL SHADDAI MY ALMIGHTY GOD FOR PRECIOUS WORD IN JESUS NAME!"
"I GLORIFY AND MAGNIFY YAHWEH FOR MAKING ME ON PURPOSE AND I AM HIS FAVORITE!"
"YOU HAVE TO KNOW FOR YOURSELF WHERE YOU ARE AT IN GOD, FAST AND PRAY, SEEK HIS FACE LIKE NEVER BEFORE THAT IS HOW HE WILL REVEAL SECRETS UNTO YOU WHEN YOU PUSH BACK THE PLATE, GET ON YOU KNEES AND CRY, POUR OUT YOUR HEART TO HIM IN JESUS NAME HE WILL HEAR YOU!"
I PRAY THAT I HAVE SAID SOMETHING TO UPLIFT AND ENCOURAGE SOMEONE THIS MORNING IN JESUS NAME!
ALWAYS REMEMBER: GOD LOVES YOU AND SO DO I!
HAVE A BLESSED THURSDAY!
MISSIONARY CYNTHIA BENNETT