MONDAY:
OCTOBER 18, 2021:
GOOD MORNING:
WELCOME:
LADIES AND GENTLEMEN:
OUR DAILY MEDITATION SCRIPTURES:
2 SAMUEL 22:31 – AS FOR GOD, HIS WAY IS PERFECT; THE WORD OF THE LORD IS TRIED: HE IS A BUCKLER TO ALL THEM THAT TRUST IN HIM. REFERENCE: DEUTERONOMY 32:4.
COLOSSIANS 3:18 – WIVES, SUBMIT YOURSELVES UNTO YOUR OWN HUSBANDS, AS IT IS FIT IN THE LORD. REFERENCES: EPHESIANS 5:3; TITUS 2:5.
PROVERBS 16:32 – HE THAT IS SLOW TO ANGER IS BETTER THAN THE MIGHTY; AND HE THAT RULETH HIS SPIRIT THAN HE THAT TAKETH A CITY.
PROVERBS 12:25 – HEAVINESSS IN THE HEART OF MAN MAKETH IT STOOP: BUT A GOOD WORD MAKETH IT GLAD. REFERENCE: PROVERBS 15:13.
PROVERBS 12:18 – THE WORDS OF THE RECKLESS PIERCE LIKE SWORDS, BUT THE TONGUE OF THE WISE BRINGS HEALING.
JOHN 16:33 – THESE THINGS I HAVE SPOKEN UNTO YOU, THAT IN ME YE MIGHT HAVE PEACE. IN THE WORLD YE SHALL HAVE TRIBULATION: BUT BE OF GOOD CHEER; I HAVE OVERCOME THE WORLD.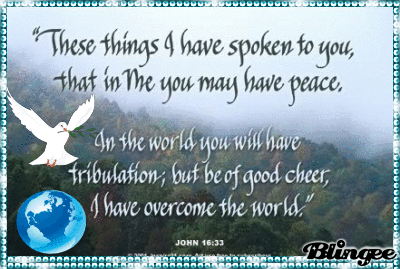 "GLORY HALELUJAH, THANK YOU JESUS"
"I THANK AND PRAISE EL EL SHADDAI MY ALMIGHTY GOD FOR HIS AWESOME WORD!"
I PRAY THAT I HAVE SAID SOMETHING TO UPLIFT AND ENCOURAGE SOMEONE THIS MORNING IN JESUS NAME!
ALWAYS REMEMBER: GOD LOVES YOU AND SO DO I!
HAVE A BLESSED MONDAY!
MISSIONARY CYNTHIA BENNETT