SATURDAY:
OCTOBER 2, 2021:
GOOD MORNING:
LADIES AND GENTLEMEN:
OUR DAILY MEDITATION SCRIPTURE: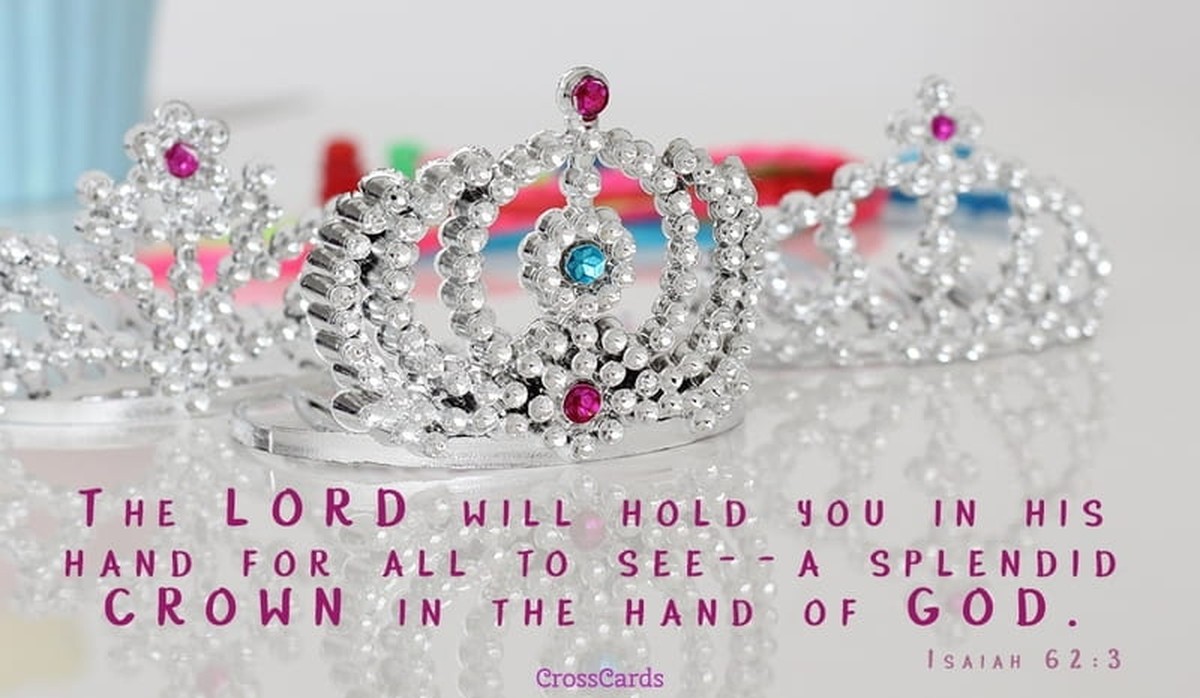 ISAIAH 62:3 – THOU SHALT ALSO BE A CROWN OF GLORY IN THE HAND OF THE LORD, AND A ROYAL DIADEM IN THE HAND OF THY GOD. REFERENCES: ZECHARIAH 9:16; 1 THESSALONIANS 2:19; ISAIAH 28:5; LUKE 2:14.
"GLORY HALLELUJAH, THANK YOU JESUS"
"I THANK AND PRAISE EL SHADDAI MY ALMIGHTY GOD FOR HIS AWESOME WORD IN JESUS NAME!"
"I GIVE GOD HONOR AND GLORY FOR MY PRINCESS JOSIE BECAUSE TODAY SHE IS 14 YEARS OLD. LET ME TELL YOU ALL SOMETHING I WAS IN LABOR WITH JOSIE FOR 24 HOURS THE DOCTOR SAID THAT SHE WAS STUCK ON MY RIGHT SIDE AND COULDN'T COME DOWN THEREORE THEY HAD TO PERFORM A C-SECTION NOT ONLY THAT MY HUSBAND SAID HE SAW HER WHEN THEY TOOK HER OUT AND THE UMBILICAL CORD WAS WRAPPED AROUND HER KNECK THEN THE DOCTORS GAVE HER A WEEK TO LIVE BUT, MY HUSBAND AND I PRAYED BECAUSE AS A WOMAN OF GOD I KNOW GOD PERFORMS MIRACLES HE DID IT IN THE BIBLE AND HE DID IT FOR US SO, I CAN TELL YOU ALL AIN'T NOTHING TOO HARD FOR GOD YOU JUST HAVE TO HAVE THE FAITH AND STAND ON THE WORD BLOCK OUT WHAT THE DOCTOR AND BELIVE WHAT GOD SAID BECAUSE GOD HAS THE FIRST AND LAST SAY IN ANY SITUATION! I TOLD MY HUSBAND I DIDN'T CARRY THIS BABY NINE MONTHS TO LOOSE HER NOW SO I PLEADED THE BLOOD OF JESUS OVER JESUS AND TOLD EVERYTHING THAT IS COMING AGAINST MY CHILD LIFE I BIND IT IN JESUS NAME BECAUSE GOD GAVE US THE KEYS TO HEAVEN AND WE NEED TO USE THEM EVERYDAY IN JESUS NAME!
I PRAY THAT I HAVE SAID SOMETHING TO UPLIFT AND ENCOURAGE SOMEONE THIS MORNING IN JESUS NAME! AMEN.
ALWAYS REMEMBER: GOD LOVES YOU AND SO DO I!
HAVE A BLESSED SATURDAY!
MISSIONARY CYNTHIA BENNETT