SUNDAY:
SEPTEMBER 19, 2021:
GOOD MORNING:
WELCOME:
LADIES AND GENTLEMEN:
OUR DAILY MEDITATION SCRIPTURES:
PSALM 22:3 – BUT THOU ART HOLY, O THOU THAT INHABITEST THE PRAISES OF ISRAEL.
DEUTERONOMY 10:21 – HE IS THY PRAISE, AND HE IS THY GOD, THAT HATH DONE FOR THEE THESE GREAT AND TERRIBLE THINGS WHICH THINE EYES HAVE SEEN.
PSALM 65:1 – PRAISE WAITETH FOR THEE, O GOD, IN SION: AND UNTO THEE SHALL THE VOW BE PERFORMED.
PSALM 50:23 – WHOSO OFFERETH PRAISE GLORIFIETH ME: AND TO HIM THAT ORDERETH HIS CONVERSATION ARIGHT WILL I SHEW THE SALVATION OF GOD.
PSALM 99:9 – EXALT THE LORD OUR GOD, AND WORSHIP AT HIS HOLY HILL; FOR THE LORD OUR GOD IS HOLY.
ISAIAH 6:3 – AND ONE CRIED UNTO ANOTHER, AND SAID, HOLY, HOLY, HOLY, IS THE LORD OF HOSTS: THE WHOLE EARTH IS FULL OF HIS GLORY.
REVELATION 4:8 – AND THE FOUR BEASTS HAD EACH OF THEM SIX WINGS ABOUT HIM; AND THEY WERE FULL OF EYES WITHIN: AND THEY REST NOT DAY AND NIGHT, SAYING, HOLY, HOLY, HOLY, LORD GOD ALMIGHTY, WHICH WAS, AND IS, AND IS TO COME.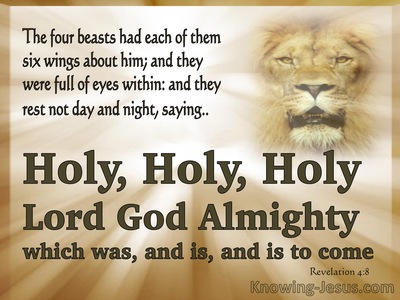 "GLORY HALLELUJAH, THANK YOU JESUS"
"I THANK AND PRAISE EL SHADDAI MY ALMIGHTY GOD FOR HIS AWESOME WORD IN JESUS NAME!"
"WE SERVE A HOLY GOD THEREFORE WE MUST LIVE HOLY BECAUSE WE HAVE A PERFECT EXAMPLE: JESUS CHRIST!"
I PRAY THAT I HAVE SAID SOMETHING TO UPLIFT AND ENCOURAGE SOMEONE THIS MORNING IN JESUS NAME! AMEN.
ALWAYS REMEMBER: GOD LOVES YOU AND SO DO I!
HAVE A BLESSED SUNDAY!
MISSIONARY CYNTHIA BENNETT