MONDAY:
JULY 26, 2021:
GOOD MORNING:
WELCOME:
LADIES AND GENTLEMEN:
OUR DAILY MEDIATION SCRIPTURES:
JEREMIAH 32:17 – AH LORD GOD! BEHOLD, THOU HAST MADE THE HEAVEN AND THE EARTH BY THY GREAT POWER AND STRETCHED OUT ARM, AND THERE IS NOTHING TOO HARD FOR THEE.
GENESIS 18:13 – AND THE LORD SAID UNTO ABRAHAM, WHEREFORE DID SARAH LAUGH, SAYING, SHALL I OF A SURETY BEAR A CHILD, WHICH AMD OLD?
GENESIS 18:14 – IS ANY THING TOO HARD FOR THE LORD? AT THE TIME APPOINTED I WILL RETURN UNTO THEE, ACCORDING TO THE TIME OF LIFE, AND SARAH SHALL HAVE A SON.
JEREMIAH 27:5 – I HAVE MADE THE EARTH, THE MAN AND THE BEAST THAT ARE UPON THE GROUND, BY MY GREAT POWER AND BY MY OUTSTRETCHED ARM, AND HAVE GIVEN IT UNTO WHOM IT SEEMED MEET UNTO ME.
2 KINGS 19:15 – AND HEZEKIAH PRAYED BEFORE THE LORD, AND SAID, O LORD GOD OF ISRAEL, WHICH DWELLEST BETWEEN THE CHERUBIMS, THOU ART THE GOD, EVEN THOU ALONE, OF ALL THE KINGDOMS OF THE EARTH; THOU HAST MADE HEAVEN AND EARTH.
PSALM 103:25 – OF OLD HAST THOU LAID THE FOUNDATION OF THE EARTH: AND THE HEAVENS ARE THE WORK OF THY HANDS.
JEREMIAH 1:6 – THEN SAID I, AH, LORD GOD! BEHOLD, I CANNOT SPEAK: FOR I AM A CHILD.
JEREMIAH 32:27 – BEHOLD, I AM THE LORD, THE GOD OF ALL FLESH: IS THERE ANY THING TOO HARD FOR ME?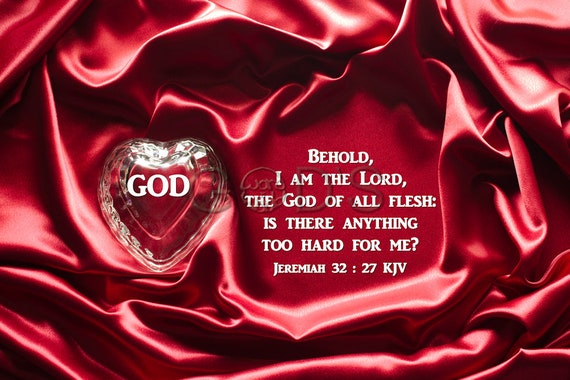 "GLORY HALLELUJAH, THANK YOU JESUS"
"I WORSHIP AND PRAISE EL SHADDAI MY ALMIGHTY GOD FOR HIS GREAT WORD!"
"WE ALL MUST TAKE THE LIMIT OFF OF GOD BECAUSE THERE IS NOTHING TOO HARD FOR GOD! THAT'S WHY I TRY SO VERY HARD TO BUILD UP PEOPLE FAITH BECAUSE PEOPLE DON'T REALIZE DOUBT BLOCKS FAITH AND WHEN YOU WANT OR NEED OUR HEAVENLY FATHER TO DO SOMETHING FOR YOU OR JUST HEAL YOU AT ANY TIME YOU MUST FIRST BELIEVE THAT HE CAN DO IT. I WANT YOU TO START MEDITATING ON HEBREWS 11:1 SAYS NOW FAITH IS THE SUBSTANCE OF THINGS HOPED FOR, THE EVIDENCE OF THINGS NOT SEEN AND I GUARANTEE YOU GET THAT SCRIPTURE DOWN IN THE DEPTHS OF YOUR HEART IT WILL HELP YOU AND CONTINUE TO ASK GOD TO HELP YOU I KNOW HE WILL IN JESUS NAME!"
I PRAY THAT I HAVE SAID SOMETHING TO UPLIFT AND ENCOURAGE SOMEONE THIS MORNING IN JESUS NAME! AMEN.
ALWAYS REMEMBER: GOD LOVES YOU AND SO DO I!
HAVE A BLESSED MONDAY!
MISSIONARY CYNTHIA BENNETT