MONDAY:
JULY 26, 2021:
GOOD MORNING:
WELCOME:
LADIES AND GENTLEMEN:
OUR DAILY MEDITATION SCRIPTURE:
MARK 10:27 – AND JESUS LOOKING UPON THEM SAITH, WITH MEN IT IS IMPOSSIBLE, BUT NOT WITH GOD: FOR WITH GOD ALL THINGS ARE POSSIBLE.
MATTHEW 19:26 – BUT JESUS BEHELD THEM, AND SAID UNTO THEM, WITH MEN THIS IS IMPOSSIBLE; BUT WITH GOD ALL THINGS ARE POSSIBLE.
JOB 42:2 – I KNOW THAT THOU CANST DO EVERY THING, AND THAT NO THOUGHT CAN BE WITHHOLDEN FROM THEE.
LUKE 1:37 – FOR WITH GOD NOTHING SHALL BE IMPOSSIBLE.
GENESIS 18:14 – IS ANY THING TOO HARD FOR GOD? AT THE APPOINTED I WILL RETURN UNTO THEE, ACCORDING TO THE TIME OF LIFE, AND SARAH SHALL HAVE A SON.
LUKE 18:27 AND HE SAID, THE THINGS WHICH ARE IMPOSSIBLE WITH MEN ARE POSSIBLE GOD.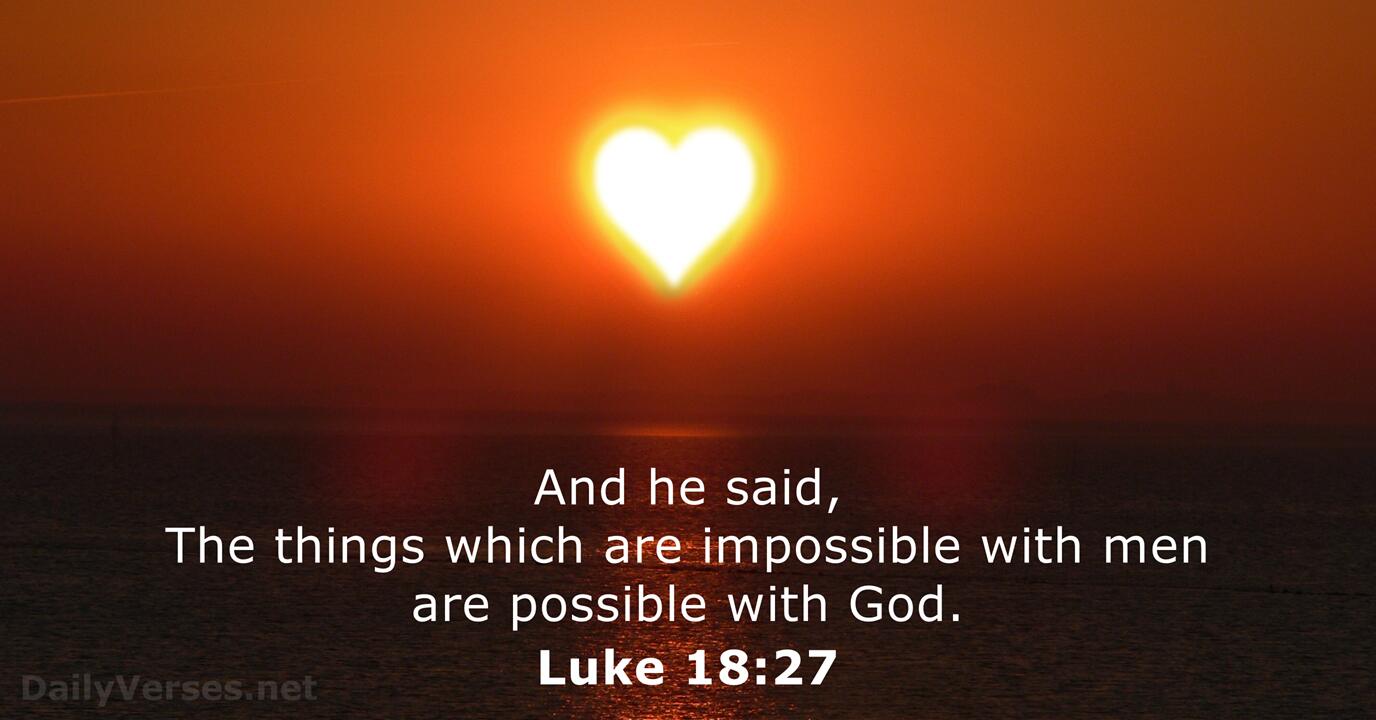 "GLORY HALLELUJAH, THANK YOU JESUS"
"I THANK AND PRAISE EL SHADDAI MY ALMIGHTY GOD FOR HIS GLORIOUS WORD!"
"WE ALL MUST CONTINUE TO STUDY AND MEDITATE ON THE WORD OF GOD DAY AND NIGHT. I CAN ONLY SPEAK FOR MYSELF BECAUSE WITH THIS PANDEMIC AND EVERYTHING I HAVE TO STAY BEFORE THE LORD FOR GUIDANCE AND INSTRUCTIONS I DEPEND ON GOD FOR EVERYTHING FOR HE IS THE REASON I'M STILL HERE!"
I PRAY THAT I HAVE SAID SOMETHING TO UPLIFT AND ENCOURAGE SOMEONE THIS MORNING IN JESUS NAME!
ALWAYS REMEMBER: GOD LOVES YOU AND SO DO I!
HAVE A BLESSED MONDAY!
MISSIONARY CYNTHIA BENNETT