WEDNESDAY:
APRIL 28, 2021:
GOOD MORNING:
WELCOME:
LADIES AND GENTLEMEN:
OUR DAILY MEDITATION SCRIPTURES:
ROMANS 16:20 – AND THE GOD OF PEACE SHALL BRUISE SATAN UNDER YOUR FEET SHORTLY. THE GRACE OF OUR LORD JESUS CHRIST BE WITH YOU. AMEN.
PHILIPPIANS 4:6 – BE CAREFUL FOR NOTHING, BUT IN EVERY THING BY PRAYER AND SUPPLICATION WITH THANKSGIVING LET YOUR REQUESTS BE KNOWN UNTO GOD. REFERENCES: PSALM 55:22; MATTHEW 6:25; 1 PETER 5:7.
PHILIPPIANS 4:7 – AND THE PEACE OF GOD, WHICH PASSETH ALL UNDERSTANDING, SHALL KEEP YOUR HEARTS AND MINDS THROUGH CHRIST JESUS. REFERENCES: COLOSSIANS 3:15; (JOHN 14:27).
JOHN 14:27 – PEACE I LEAVE WITH YOU, MY PEACE I GIVE UNTO YOU: NOT AS THE WORLD GIVETH, GIVE I UNTO YOU. LET NOT YOUR HEART BE TROUBLED, NEITHER LET IT BE AFRAID. REFERENCES: COLOSSIANS 3:15; JOHN 3:1; LUKE 1:79; (PHILIPPIANS 4:7).
JOHN 16:33 – THESE THINGS I HAVE SPOKEN UNTO YOU, THAT IN ME YE MIGHT HAVE PEACE. IN THE WORLD YE SHALL HAVE TRIBULATION: BUT BE OF GOOD CHEER; I HAVE OVERCOME THE WORLD. REFERENCES: ISAIAH 9:6; ROMANS 5:1; 2 TIMOTHY 3:12; ROMANS 8:37; (1 JOHN 4:4).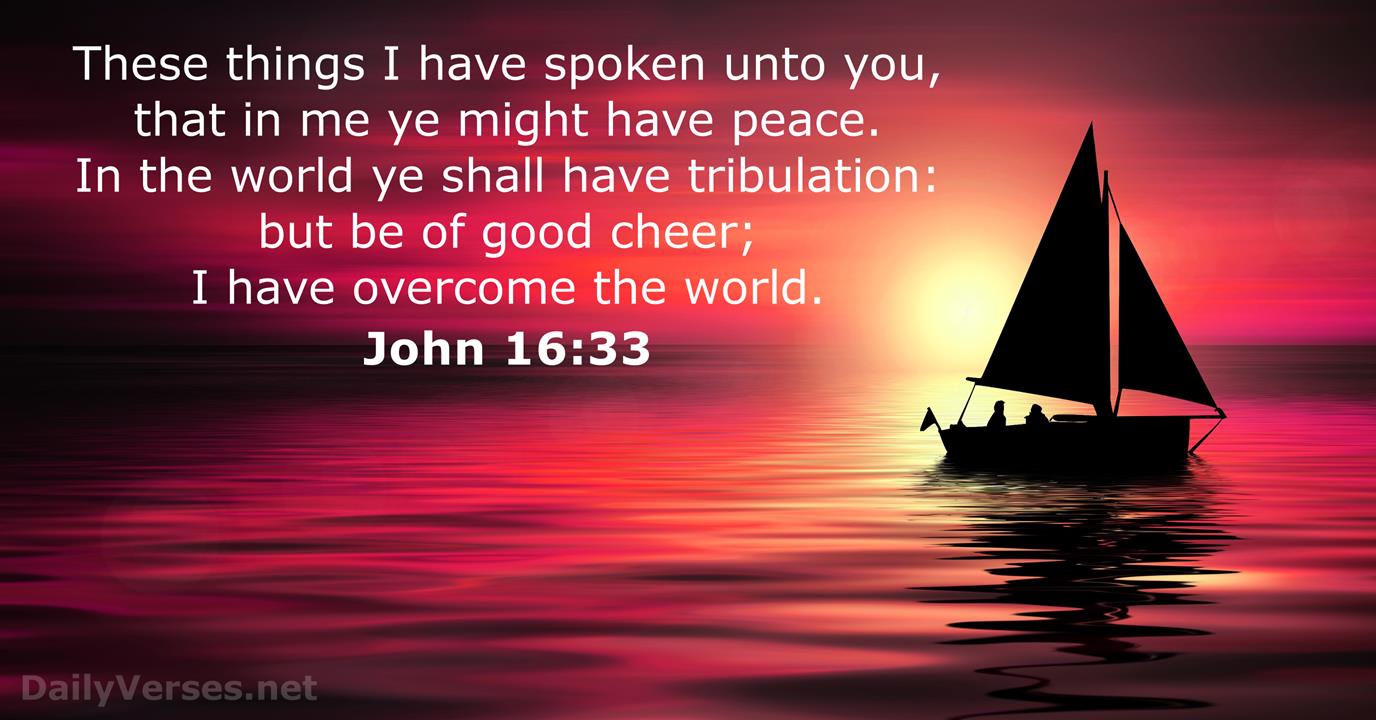 "GLORY HALLELUJAH, THANK YOU JESUS"
"I THANK AND PRAISE EL SHADDAI MY ALMIGHTY GOD FOR HIS AWESOME WORD!"
"WE ALL MUST CONTINUE TO STAY IN THE WORD OF GOD, MEDITATE, FAST AND PRAY!"
I PRAY THAT I HAVE SAID SOMETHING TO UPLIFT AND ENCOURAGE SOMEONE THIS MORNING IN JESUS NAME!
ALWAYS REMEMBER: GOD LOVES YOU AND SO DO I!
HAVE A WEDNESDAY!
MISSIONARY CYNTHIA BENNETT