SUNDAY:
APRIL 11, 2021;
GOOD MORNING:
WELCOME:
LADIES AND GENTLEMEN:
OUR DAILY MEDITATION SCRIPTURES:
JOHN 8:24 – I SAID THEREFORE UNTO YOU, THAT YE SHALL DIE IN YOUR SINS: FOR IF YE BELIEVE NOT THAT I AM HE, YE SHALL DIE IN YOUR SINS. REFERENCES: MARK 16:16; JOHN 8:21.
LUKE 1:37 – FOR WITH GOD NOTHING SHALL BE IMPOSSIBLE. REFERENCES: MARK 10:27; ROMANS 4:21; GENESIS 18:14; JEREMIAH 32:17; ZECHARIAH 8:6.
LUKE 17:5 – AND THE APOSTLES SAID UNTO THE LORD, INCREASE OUR FAITH.
LUKE 18:27 – AND HE SAID, THE THINGS WHICH ARE IMPOSSIBLE WITH MEN ARE POSSIBLE WITH GOD. REFERENCES: JEREMIAH 32:17; MATTHEW 19:26.
MARK 10:52 – AND JESUS SAID UNTO HIM, GO THY WAY; THY FAITH HATH MADE THEE WHOLE,. AND IMMEDIATELY HE RECEIVED HIS SIGHT, AND FOLLOWED JESUS IN THE WAY. REFERENCES: MARK 5:34; MATTHEW 9:22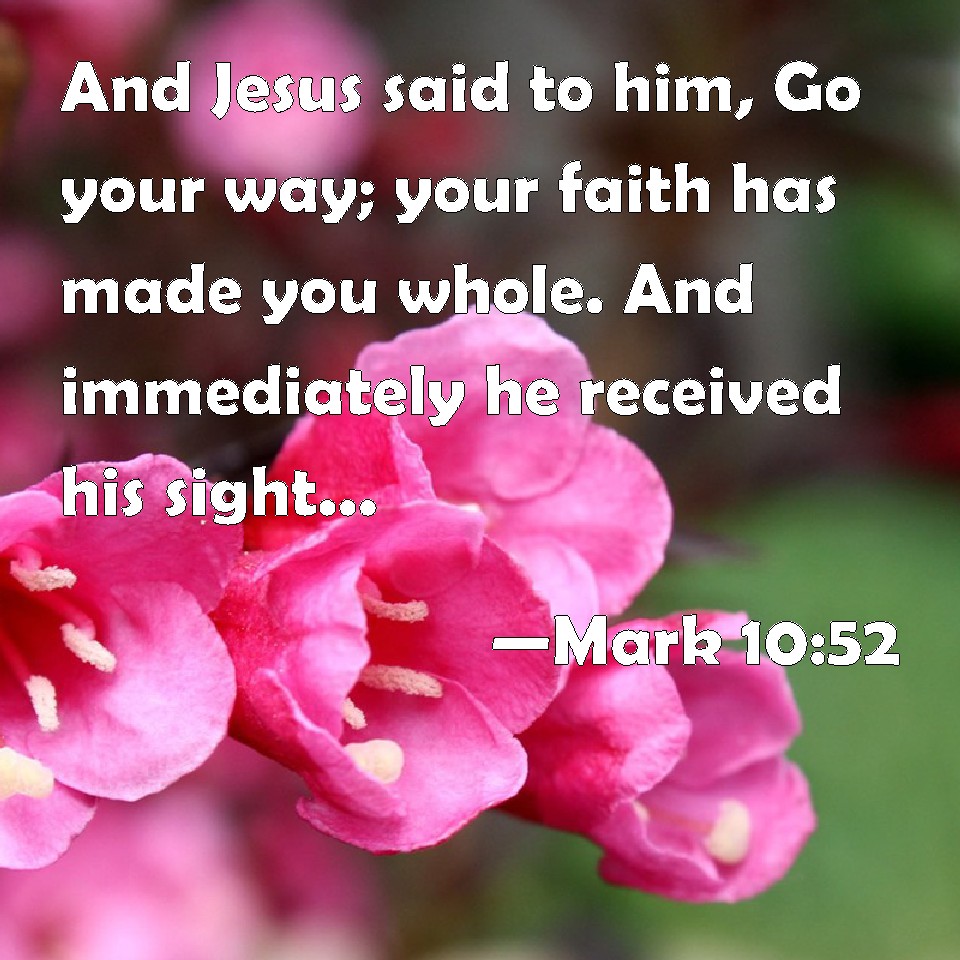 "GLORY HALLELUJAH, THANK YOU JESUS"
"I THANK AND PRAISE EL SHADDAI FOR HIS AWESOME WORD!"
"WE ALL MUST CONTINUE TO WALK BY FAITH AND STUDY AND MEDITATE ON THE WORD OF GOD GET IT DOWN INTO THE DEPTHS OF OUR HEARTS AND START SPEAKING AND DECLARING THE WORD OF GOD EVERY DAY BECAUSE THAT IS WHAT I DO AND I CAN TELL YOU ALL GOD WILL TALK TO YOU AND YOU WILL BEGIN PRAYING IN THE SPIRIT LIKE NEVER BEFORE AND YOU JUST LET THE HOLY GHOST TALK TO GOD FOR YOU AND YOU WILL FEEL BETTER AFTERWARDS!"
I PRAY THAT I HAVE SAID SOMETHING TO UPLIFT AND ENCOURAGE SOMEONE THIS MORNING IN JESUS NAME! AMEN.
ALWAYS REMEMBER: GOD LOVES YOU AND SO DO I!
HAVE A BLESSED DAY!
MISSIONARY CYNTHIA BENNETT